Years Of Experience In Conflict Resolution
How we can assist you in Bath
Looking to Start Mediation In Bath Today?
Try Us Out!
"We tried to sort things out ourselves, worried at the cost of mediation, we were so pleased we asked for a session. We saved money and time and got agreement so quickly!"
Eric
National Family Mediation Service Bath
Parties involved in domestic relations cases such as actions that involve separation and divorce, child support or other family issues are required to attend at least one family mediation session.
An exemption to this will be if an emergency situation exists like the immediate division of joint assets or some level of threat to children. Other than these kinds of emergency situations, the parties involved will be required to attend mediation (MIAMS) and try to resolve the issues.
Family mediation in Bath is an alternative to court. It's where the parties involved meet with a mediator who will facilitate and guide them in negotiating a solution to family disputes. For instance, divorcing couples can attend mediation to resolve issues related to the distribution of joint assets, saving and pensions considerations, child support, parenting plans, holiday arrangements etc. Mediation gives them more control over the case and allows them to create a solution that benefits both parties because you own the decision making process.
If you need a family mediator in Bath, call us, and we will be happy to help.
Our experienced, impartial family mediators will help you amicably resolve family disputes on your own. You don't have to deal with the stress and cost of legal fees and court. We offer confidential and private mediation services in Bath.
Our mediators are unbiased and knowledgeable in all areas of family law. Mediation is held in a location convenient to both parties. We can help you resolve family disputes, including child custody and visitation schedule after a divorce. Our mediators can also help you deal with finding a suitable solution to go forward.
Should You Use a Mediation Service to Work Out Your Dispute?
Most frequent questions and answers
Need A Mediator In Bath? Contact Us Today!
What are the Benefits of Family Mediation in Bath?
Mediation offers the following benefits:
If one of the parties presents an offer that's not recognized, the other party can't use that offer as leverage later on. Exemptions to the confidentiality rule include allegations of child or elderly abuse. If such accusations arise, the mediator has to report it. Even though the couple has been ordered to go to mediation, it doesn't mean that they need to reach an agreement at mediation.
After they arrive and their mediator says the opening statement about the session, both parties have followed the mediation order. They can leave the mediation session at that time. However, doing so isn't always advisable because mediation can help them resolve the case without judicial intervention. During mediation, both parties will have more control over the case. They are also given more room to come up with creative resolutions to complex issues.
Both parties have to give and take to reach a mutual agreement.
Try to have an open mind when going to mediation sessions. You have to think about what your ideal result would look like when resolving each issue and have a back-up plan for other ideas that you'd be able to accept, even though you may not really like it.
A good agreement is an agreement that both of you are comfortable with. You may want to talk to a Solicitor who will listen to and understand your needs to determine what a good agreement looks like.
Stop Fighting - Contact Us Today - Save Money & Time NOW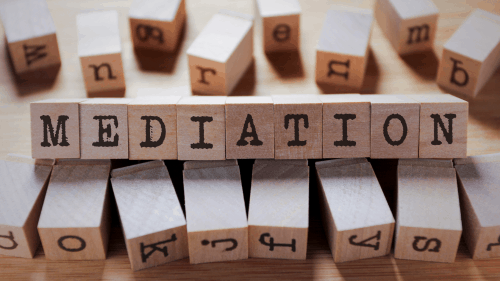 How we can assist you in Bath
It is, however, not our place to cast judgments over who is right or wrong in any dispute. Nevertheless, our mediators are trained to act sympathetically and complete impartially to reach the best practicable solution quickly and with the least stress.
Want to start mediation today then get in touch with us today to see how we can help you resolve your issues!